"The Blushies"
Welcome to The Blushies, my first awards post for the best performances given by blushes on over-40 cheeks.  I've tried a ton of them, but these beauties rise above all the rest.  And tonight, we honor them.
THESE BLUSHES…
Won't make you look older
Have long-lasting color
Look like a natural flush of color
WINNER FOR BEST NEW BLUSH
And the Blushie goes to…NARS Liquid Blush
This blush gives a superior performance!!!  It's brand new, I had to have it immediately, and honestly, I was blown away.  It's easy to apply, I just use my fingertips.  It's a little thicker than water.  For being so light, it packs a ton of long-lasting color.  It's so believable, no one will know you're not actually blushing.  The NARS cult favorite shade, Orgasm, is said to be flattering on almost everyone.  Of course, I bought it.  I couldn't NOT buy something called liquid Orgasm.
WINNER FOR BEST BLUSH IN A POWDER
And the Blushie goes to… It Cosmetics CC+ Radiance Ombre Blush (See My Full Review Here) 
Known for being unflattering on over-40 skin, powder blush is a tough role to play, but this one does it beautifully and effortlessly.  It is one of the VERY FEW powder blushes I will wear.  In my opinion, it's amazing.  My favorite shade is Je Ne Sais Quoi, pictured here.  This powder does not sit on top of your skin and look all chalky or cakey.  It looks natural and lasts.  Perfect for summer heat or if you have oily skin.
WINNER FOR BEST BLUSH IN LONG-WEAR
And the Blushie goes to…BECCA Beach Lip and Blush Tint
Why aren't more people talking about this blush?  I feel like its performance is flying under the radar.  It's fantastic.  You only need a tiny amount of this cream color to get a natural looking glow.  It's a stain, so it lasts and last.  Unlike other stains, this is very easy to work with.  Fingertip application works for me.
WINNER FOR BEING A SLEEPER HIT
And the Blushie goes to…Sephora Perfection Mist Airbrush Blush (See My Full Review Here)
I think people are afraid to try this blush because it's in a can.  It's different, unexpected.  But once you try it, you'll be amazed.  Spray a little of this on a fluffy brush and blend onto your cheeks.  You won't believe how natural this looks.  It's one I always have on hand.
Many women tell me they are afraid to use anything but powder blush.  It's all they've ever known.  Read this tip…
Here's a tip about cream and liquid blushes:  If you've applied too much or think the look is harsh, just blend a little BB cream or foundation OVER the blush.  Put the foundation onto your fingertips, rub it around on your fingertips, then press a little onto your face, OVER the blush.  Now take a fluffy foundation brush and blend, blend, blend.  Play around until you find what works for you.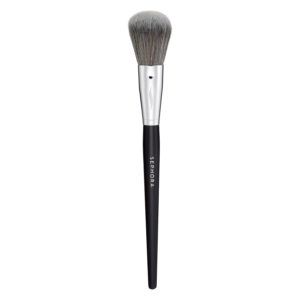 Much like any awards show, this awards post has run long.  I can hear the music playing me off.
I'd like to thank NARS, It Cosmetics, BECCA, and Sephora for these excellent performances.
And my over-40 face thanks them as well.
(Visited 558 times, 4 visits today)