"Nice Melons"
I first heard of the French melons during one of Cindy Crawford's late night infomercials.  So that was her skincare secret?  It sounded so mysterious!  The "rare French melon," which looks similar to a cantaloupe, is incorporated into her skincare line, Meaningful Beauty®.
I'm no scientist, so I can't really weigh in on the melon's anti-aging properties, but I do know this:
There are some unique, effective products in the Meaningful Beauty® skincare line.
The line is HUGE and the products are a bit on the expensive side.  There's a lot to choose from, which is great because you can find products tailored to your skincare needs.  You can find many of them at Ulta, and all of them on the Meaningful Beauty® site.
I tried eight products and I liked them all, but the reality is, I can't afford to buy them all.  Out of the eight products, I've picked my top three favorites.  The standouts that I don't think I could easily find in another skincare line.
I've selected My Top Three Favorites.  I consider these products the standouts that I don't think I could easily find in another skincare line.
1. RICH MOISTURE MASQUE 
I've never used a mask like this one.  It looks like cold cream, but it's thicker.
When first applied, it is white-ish.  During the 15-20 minutes it's on, it melts down to being clear.
It feels extremely oily, but to my surprise, rinsing this off is EASY.  You're not oily at all!
It's an extreme boost of hydration and I love it.  Recommended use is 1-2 times a week. 
2.  GLOWING SERUM 
I use it in the morning to provide a smoother, firmer canvas for makeup.
Not greasy or oily, absorbs quickly.
No feeling of "slack skin" after use.  Increased firmness is noticeable.
I like to use this serum, then a BB cream, then use concealer on zits & spots.
3.  VITALITY OIL
This oil has been PERFECT for my winter skin.
I use it after a serum and before moisturizing, mainly at night.  Its hydration can't be beat.
It's a multitasker because this has Vitamin C built in to help reduce lines.
Absorbs quickly, no greasy/ shiny /oily look
Full disclosure, I saw "vegetable oil" in the list of ingredients and that sounded a little odd to me.  But I can't deny that my skin liked this face oil…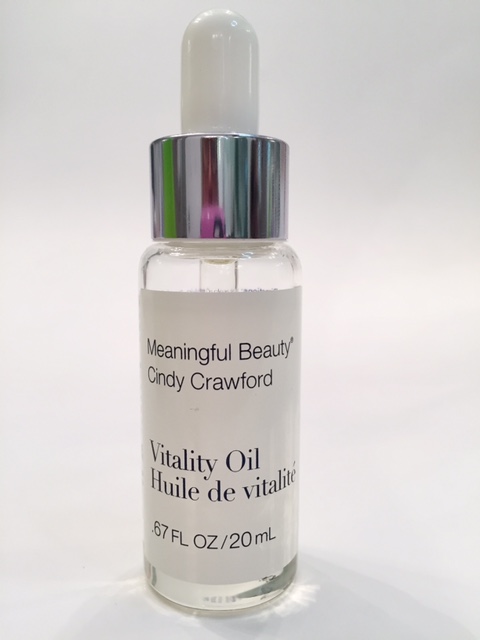 Those were my top three picks, the ones I would most likely purchase myself.  Here are the other products I tried. 
CREME DE SERUM
With Vitamin C, antioxidants, a blend of peptides, hyaluronic acid and her signature melon complex, this serum is a HYDRATOR.
I like to use it before bed and let it moisturize my skin overnight. For me, it was a little heavy for use under makeup.
If used in the day, the company recommends following up with their moisturizer with SPF 20.
WRINKLE SMOOTHING CAPSULES
Twist off the top of a capsule and squeeze out the wrinkle smoother!  Great packaging!
Feels similar to a smoothing primer to me
Smoothes crow's feet, brow lines and marionette lines.
I liked wearing it under makeup, I did need to give it plenty of  time to sink into my skin or my makeup did not apply easily.
PORE REFINING TONER, LIFTING EYE CREAM (ADVANCED FORMULA), DEEP CLEANSING MASQUE
The eye cream was moisturizing, creating a great canvas for makeup.
I am not a big user of toner.  I have a couple favorites I keep on hand, mostly for exfoliation purposes as my skin doesn't tolerate scrubs well.  While this toner was fine, it was not what I look for in a toner.
The Deep Cleansing Masque was also fine, but not something I really need to use 1-2 times a week.  I have read some reviews that said this was great for acne prone skin.  It's clay-like consistency was a little too drying for my skin type.  I much preferred the moisturizing masque.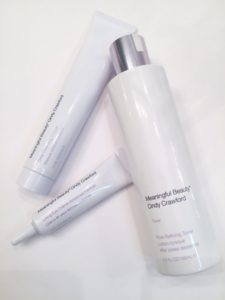 So, overall, I'd say Meaningful Beauty® is worth checking out next time you're at Ulta.  With so many products to address a variety of different skincare issues, Meaningful Beauty® might have a skincare solution suited to your needs.
Cindy Crawford knew what she was doing when she created this line.
She was using her melon.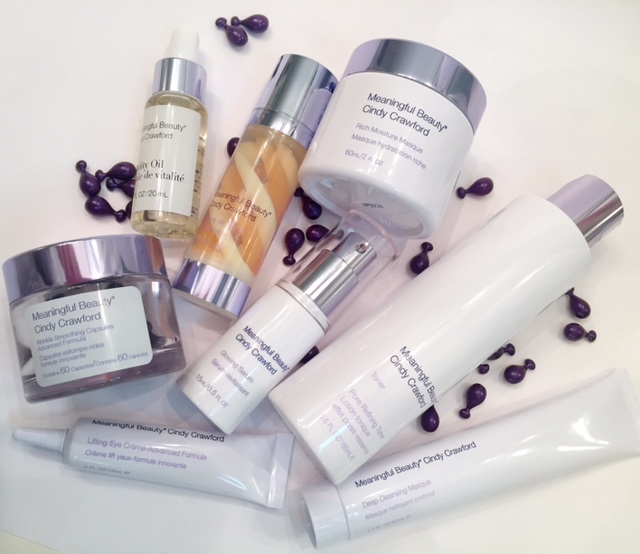 ---
These products were given to me as PR samples for consideration for review.  As always, these are my honest thoughts.  If a product does not work well for me, I simply don't review it.  
(Visited 2,793 times, 5 visits today)