Meaningful Beauty® compensated me with an advertising sponsorship to write this post. As always, I only review products that I believe in. All expressed opinions are my own.
---
"Step By Step"
I've reviewed products in Cindy Crawford's Meaningful Beauty® skincare line before, but this time is different.  Rather than trying one or two products, now I have the whole system – All the steps in Cindy's skincare routine!
One thing I immediately loved about this line is how SIMPLE it is.
Using the steps of the routine was a game-changer for my skin. The routine is easy to follow every morning & evening.  No matter how busy I am, this makes it easy keep skincare a priority.
This time I could see how the products work together for glowing results.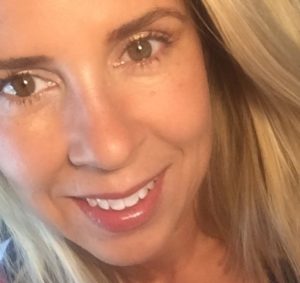 Here's The Breakdown…
 

DAYTIME RITUAL
Step 1.  Skin Softening Cleanser – It's a creamy cleanser (no bubbles) that leaves no film or residue on your face.  It gets the job done without drying out your skin, which is so important for over-40 complexions.  Staying hydrated is key to getting that glow.  I use it In the morning and evening, with a washcloth for gentle exfoliation.
Step 2.  Ultra Lifting and Filling Treatment – This treatment is absolutely amazing!  With Orchid Extract, it's designed to "visibly lift skin and act as a non-invasive line filler to help temporarily smooth out the look of fine lines and wrinkles" –
And it works!
I notice a difference in my skin immediately after applying the Ultra Lifting and Filling Treatment.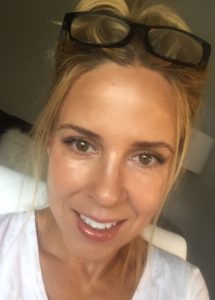 Immediate Results:   After applying this serum in the morning, my skin instantly looks healthier and fuller.  Lines and wrinkles are temporarily smoothed, and my skin takes on a dewy, healthy glow!
 Long-Term Results:   This treatment helps support natural production of collagen and elastin in the skin.
Step 3.  Antioxidant Day Cream SPF 20 – This is a perfect "everyday" face cream.  It's not greasy or thick and it DID NOT make me break out or irritate my skin.  My skin doesn't always react well to SPF, but this moisturizer makes my skin feel hydrated AND protected without feeling like it's smothered.
This eye cream helps visibly lift skin, so you have a better canvas for your makeup.
Step 4.  Lifting Eye Crème – Advanced Formula –  You can't forget about eyes!  The skin near eyes tends to be thin and sensitive, so extra attention and added moisture is NEVER a bad idea.  This eye cream wears well under makeup. It doesn't cause your makeup to pill when you apply concealer on top.
---
NIGHTTIME RITUAL
Step 1. Skin Softening Cleanser – See description above in daytime ritual.
Step 2.  Crème de Serum  – This rich serum gets to work while you sleep, so you wake up looking and feeling extra-hydrated.  Hydrated skin lessens the look of wrinkles.  Created with the super-antioxidant melon complex, anti-aging peptides, and hyaluronic acid (a moisturizing miracle!) – this serum is a serious lifesaver.
Hydrated skin means wrinkles show LESS.  And this serum is a hydrator!
Step 3.  Lifting Eye Cream – Advanced Formula – See description above in daytime ritual.
---
You can build on the basic steps, tailoring YOUR skincare to YOUR needs.
ADDITIONS TO THE AM & PM RITUALS
Meaningful Beauty® has developed products that target specific skincare issues. Check out MeaningfulBeauty.com and explore more of Cindy's products that might be the perfect fit for you!
Here are two I've added to my routine…
Dark Spot Correcting Treatment – The active ingredient in the Dark Spot Corrector is hydroquinone –  a skin lightener perfect for gradually fading dark spots.  It is formulated with clinical grade glycolic acid to help resurface skin through exfoliation. AND it also includes a healthy dose of Vitamins A, C and E!  I've used it for a month, and I've noticed fading already.  According to Meaningful Beauty®, expect your best results after three months of use.  So far, so good!
Ideally, you should always patch test skincare products on a small area of skin to see how you tolerate a product before diving right in.  Since this cream contains hydroquinone, remember to patch test.  I have never had a problem with hydroquinone, and I'm glad because it works!
Skin Brightening Décolleté and Neck Treatment –  The neck and chest are important areas that we so often forget about.  Signs of aging appear here first, so give your neck and décolleté the same attention you give your face.  Sadly, I didn't start taking care of mine until I noticed sagging and wrinkles.  But it's not too late!  This treatment is made to hydrate and protect skin with SPF 15.  I may not be able to undo all my damage, but I CAN protect against more! 
Healthy, hydrated skin over 40 is possible.
Meaningful Beauty® helped me get that glow…
Step by step.

(Visited 28,015 times, 120 visits today)