"Good Oscillations"
After trying TWO cheaper, and extremely disappointing, versions of a Clarisonic cleansing device, I finally shelled out the cash and bought the real thing.  I'm glad I did.  My Mia Clarisonic actually does cleanse & exfoliate just like it says it does.  I like it.  It's quick, easy, thorough, and I can use it with just about any cleanser I like.
Then I saw that Clarisonic came out with a makeup brush head for use with all their cleansing devices.  You just switch the attachment!  This sounded like genius to me!  Having not learned my lesson from the cleansing device experience, I immediately ran out and got a cheaper version of the makeup brush…which sucked.  I returned it and got the real thing.  Lesson finally learned…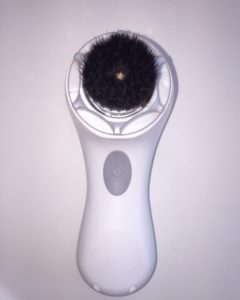 Another lesson I've learned the hard way:  Makeup brushes MATTER.
Brushes didn't matter when I had young skin, but now they are KEY in my makeup application.  I've got a decent mid-priced set and I can really tell a difference in how they blend.  My makeup looks more natural, softer, less harsh and way more polished.
The Clarisonic Foundation Makeup Brush takes blending to a new level, to an airbrushed look.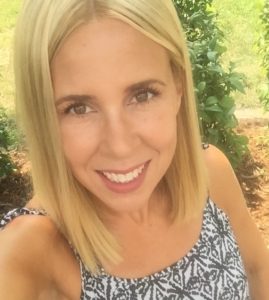 Now, I'm not saying you can't get amazing results from regular brushes, because you can.  For me, the biggest benefit of this brush is how FAST AND EASY it is to get fabulous results. I apply products to my face first, then I use the brush to blend…
BB Cream
Foundation
Cream blush
Cream bronzer
Concealer
Primer
Everything on my face together (not eye shadow) – BEFORE any powder is applied. This is not for use with powders. 
It doesn't spin nor does it vibrate.  It oscillates, which means there's a tiny back and forth motion going on.
"The Clarisonic Makeup Brush utilizes patented oscillation technology to generate more than 18,000 micro-blends per minute. The makeup brush gently provides a flawless, full foundation coverage look in 60 seconds or less." – Clarisonic.
You hear that?  60 seconds or less.  That's what I'm talking about.
The brush is soft and super flexible, making it easy to get around curves and get to places on your face you might not usually blend so well, like around your nose for example.  Cleaning is easy, just use brush shampoo and warm water.  It is suggested you spray the brush head with brush spray after each use, but I don't.
I give it a thumbs up for fast, easy blending with great results.  And honestly, it's fun to use!  And, in my opinion, anything that gives you good vibes is a good purchase.
Or in this case, good oscillations.
(Visited 198 times, 1 visits today)