"It's All Over My Face"
If you've read me before, you know I stay away from powder.  It's aging.  It dries your skin and cakes up in wrinkles.  I much prefer cream formulas, and I have never used mineral powder as foundation.
I could go on and on about the powder products I hate.  My point is, I take this business of powder pretty seriously.
I was shocked when I fell in love with a powder blush from It Cosmetics…
So I decided to give their Je Ne Sais Quoi Complexion Perfection Palette a try.  I liked the blush color in it and thought that if nothing else, I would probably like that.  And I did.
But my love didn't stop at the blush.  I love everything in the palette.
So now IT'S all over my face.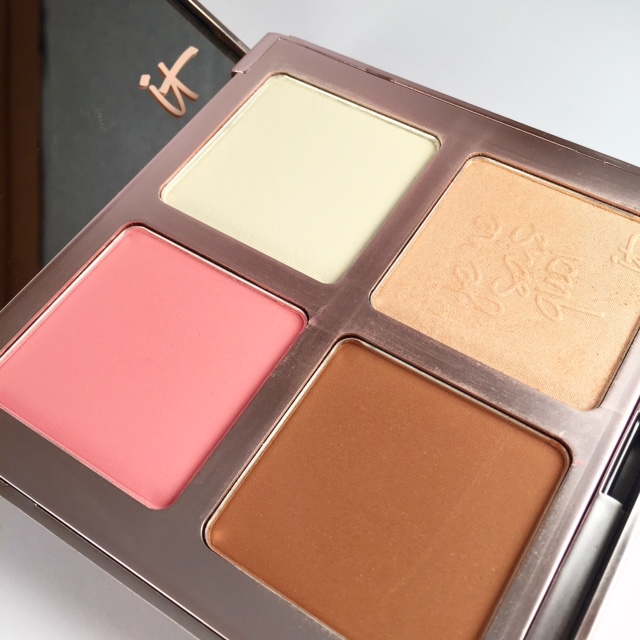 Look at its gorgeousness!  This is THE ONLY palette (for face) that I own and it's everything I need.  Honestly, I'm thinking of buying a "backup" palette.  Does anyone else do that?
Here's what's in it:
Perfect Lighting Luminizer –  This is amazing.  Use a little to highlight certain areas like cheekbones.  I've even used it as eyeshadow.  Or, dust a little all over your face for a shimmery, glowy veil.  A fan brush is really good for that.
Bye Bye Pores Pressed Powder – I will say, the loose powder version of Bye Bye Pores is the best pore hider ever.  The Best!  But, this pressed version is good, too.  And it travels waaay better in a purse for easy touch ups.
Bye Bye Pores Blush in Je Ne Sais Quoi  – Amazing healthy pink glow.  Never cakey, and this stuff stays on!  It sort of melts into skin, never looking like a powder sitting on top of your skin.
Sunshine In A Compact Bronzer – This was the biggest surprise of all for me.  I NEVER use powder bronzers.  Nope.  But a little of this really gives you a healthy look.  I like to use it where the sun would normally tan me.  I don't contour with it.  I hit my forehead, bridge of nose and tops of cheekbones with it.  You can add the luminizer on top for light reflecting if you like.
Developed with input from plastic surgeons about contouring and light aesthetics, this palette is talc-free, made with anti-aging hydrolyzed collagen, silk and peptides.  It really does give your face a glow.  I haven't found another all-in-one palette I love this much.
For $42, I just don't think you can beat its versatility and quality.  I'm thrilled to have finally found a powder palette to love,
and I think IT shows on my face…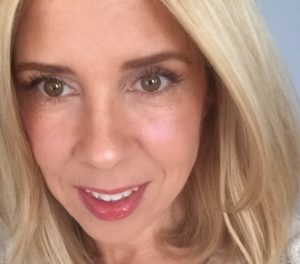 (Visited 508 times, 1 visits today)