"It's elfing Good"
I love when I can find drugstore products, but they have to actually work.
Sometimes a product is cheap for a reason:  It's crappy.
I've pretty much regarded e.l.f. Cosmetics as a line college-age people can wear.  It's affordable and it gets the job done.  When you're young, you can wear anything and look good.
But lately, elf has been coming out with some good stuff!  Their Beautifully Bare Cream Blush is great, and they have a cream blush palette of four shades now.  I also love their new Aqua Beauty Molten Metallic Eye Shadows (see review HERE)
And recently I picked up their Aqua Beauty Radiant Gel Lip Stain in Dewy Berry.
It's so elfing good that this stain gets its own review.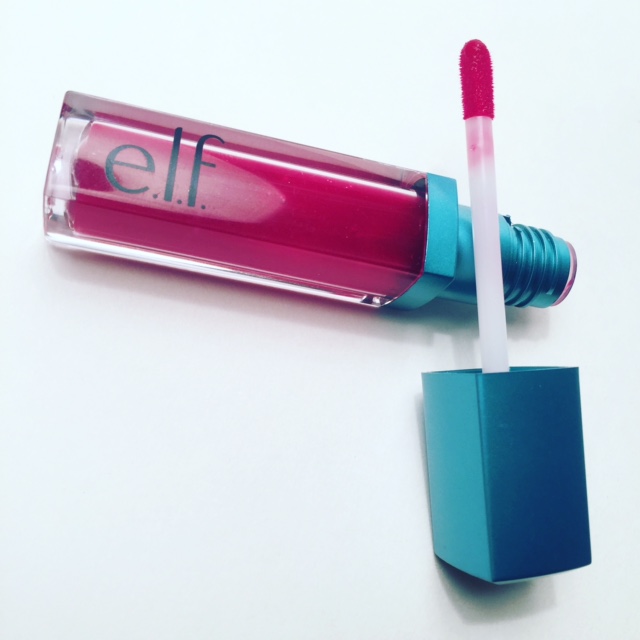 It may look dark in the tube, but check out how sheet it is in the picture below.  It reminds me of Benefit's Benetint Cheek and Lip Staind ($30), but with a much smaller price tag of $4.  It works for LIPS AND CHEEKS, and honestly, it's easier to use than Benetint.  You can't splash or drip this stuff and it's much easier to apply.
Many lipsticks feather and travel into lip lines.  This won't.  It temporarily stains your lips, so it's not moving around at all.  As a blush, it literally CAN'T accent cheek wrinkles since it's a stain.
LIPS
It feels like a thin gel, very light.  When you apply it, you need to act fast.  Blend it before it dries.  I apply with the wand to my lips then blend it around (if needed) with a lip brush or my fingertip.  When it's dry, I and use a lip liner (if needed) and top this with a lip gloss.  The gel gives great color, but it's not hydrating and there's no shine.  If you like a matte look, just don't add the gloss.
CHEEKS
As blush, I apply to my fingertips first, then blend it around on my cheeks.  When the blush is completely dry on my cheeks, I apply just a little BB Cream OVER the blush.  This really gives a natural look.  Like you have a healthy, pink glow.
Apply once for light a tint.  If you want darker color, let the gel dry and apply again.  Each time you add more, let the previous application dry.  Both these swatches were made with Dewy Berry.  One is light (one application) and one is a little darker (two applications).  It's like getting two (or more) colors in one tube.  This swatch is Dewy Berry, there are other colors of this product.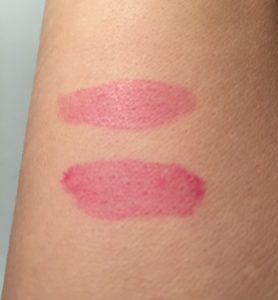 The color lasts, but I wouldn't call it all-day wear.  I would say it lasts longer on cheeks than lips.
For $4, Aqua Beauty Radiant Gel Lip Stain is really a great little product.  A real problem-solver if you have lip lines and/or cheek wrinkles.  elf has my attention with these new products.  I may have ignored this brand in the past,
but I won't elf up like that again.
---
If you have a favorite elf product, please share it in the comments.  I'm ready to explore this brand.
(Visited 805 times, 1 visits today)