"Skinconsistent"
Much like "Good Hair Days,"  I think I have "Good Skin Days."  For example, on Monday my skin might glow, and by Wednesday I'm wondering what the hell happened to it.
Why does the foundation that looked great on me last week not look as great this week? WTF is going on here?
My over-40 skin changes its personality from day to day.  It's what I call "skinconsistent."  I never know what to expect next.
Will it be dry and/or flaky skin?  Or will it be oily, possibly accompanied by a surprise breakout?
I suspect hormones have a lot to do with why I'm oily one day and dry the next.  Whatever.  There's nothing I can do about those whoremones.  But…
There are some things I CAN do to have more consistent "Good Skin Days."  Or at least fake good skin.
Here are some ideas to deal with the day-to-day changes you may be experiencing with your skin.
ON DRY DAYS:
1.  Mix a little moisturizer into your foundation.  Use enough to suit your needs.
2.  Here's my favorite: Mix a little BB Cream into your foundation.  It adds moisture without sacrificing color/coverage.  My favorite BB's are YSL Tops Secret BB Cream and the original Garnier BB Cream.  A tinted moisturizer would work for this, too.  Laura Mercier's is always a good one to try.
3.  Apply a light layer of BB Cream to your face BEFORE applying your foundation, using the BB as a primer.  It adds a layer of moisture and a little color before you apply your longer-lasting, higher-coverage foundation.  A tinted moisturizer would work for this, too.
4.  If you find that you dry out during the day, use a hydrating spray to refresh your look.  You can try Pixi Glow Mist (which has a little argan oil in it) or just plain Evian water mists.
Shop Evian on Amazon.
Shop Pixi Glow Mist on Amazon.
5.  Add a drop of face oil to your moisturizer.  Give it time to absorb before applying makeup.
IF YOU'RE OILY
1.  On oily days, I can leave the BB Cream out of the equation.  I can use a regular primer (current favorite is from No7) followed by my foundation. If you're super oily, find a shine-fighting primer, some are made to combat oil.
2.  To hide pores and fight shine, use a powder.  I love Bye Bye Pores from It Cosmetics, which you can find loose or pressed.  I would love to give a drugstore option for this, but I don't like any drugstore powders.  This is definitely something I consider to be worth the splurge.  If you know of a great drugstore powder, please let me know.
I never use powder all over my face, I stick to the oily parts and I use as little as possible. 
3.  Blotting papers are cheap and VERY effective. Put a pack in your purse and use them to dab oil away. They get oil off your face and lessen or eliminate the need for powder.  Applying powder repeatedly during the day leads to a caked-up look.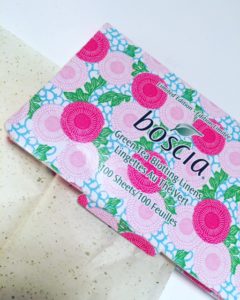 If you have skinconsistencies like I do, and feel your skin has multiple personalities, I hope you find these tips helpful.
They are little ways to tweak your routine.  Because over-40 skin can be a moody bitch.
(Visited 7,116 times, 22 visits today)