"The BASE-ics"
I'm over-40, so there's a lot more happening on my face than ever before.  Wrinkles, spots, and bags…they just keep multiplying.  I can't cover up what's going on here by simply smearing on some base anymore.
Foundation can help, OR it can hurt me – depending on how I apply it,
Base can actually ADD years now.
So I've got to be strategic.
In this post, I list three of my "Basics of Applying Base" for the Over-40 Face.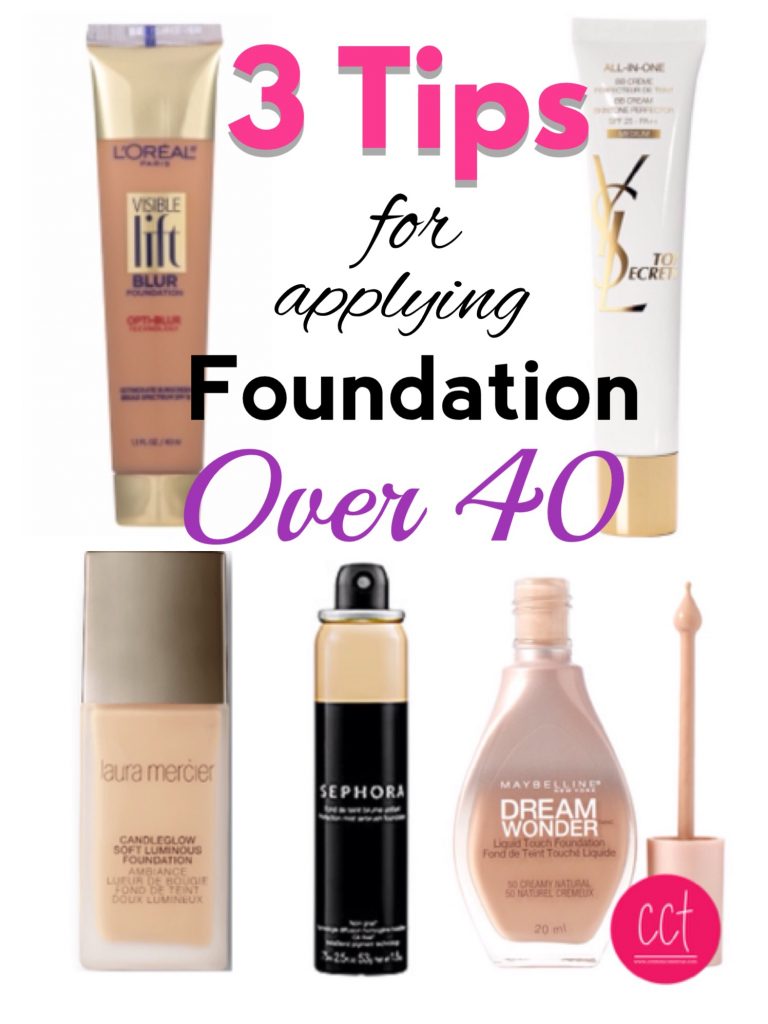 THE "BASE-ICS"
1.  Lighten Up On Foundation
Fact:  You can't cover a wrinkle.  Applying foundation to wrinkly areas of your face will only exaggerate the wrinkles, not hide them.  For me this means little to NO foundation around my eyes and smile lines.  If I feel I must use something on those areas, a moisturizing BB Cream works better for me.
Sometimes I mix a little foundation with a BB cream to get coverage AND moisture.
My BB Picks: (Click for Review) YSL Top Secret BB Cream,  Garnier BB Cream
2.  Step Away From The Powder
Powder just sucks…all the moisture out of my face.  Powder absorbs moisture.  I don't want dry skin, I want hydrated skin.  Hydration plumps wrinkles, dry skin shows them more.  You can think of grapes & raisins as an example.  I never set my foundation with powder.
It gathers in creases, caking up and actually highlighting wrinkles.
Note:  I ditched most powder blush long ago.
My T-Zone has big pores and can get oily, so I will sometimes use powder there.  The tiniest amount I can get by with.  Sometimes just tapping a little on the targeted areas with my fingertips.
My Powder Pick:  It Cosmetics Bye Bye Pores
3.  Sometimes Concealer Is All You Need
Try going without foundation and just use concealer to camouflage imperfections.  Dot it on the spots you want to cover and use a concealer brush (I've even used tiny eyeliner brushes) to push the concealer into your skin.  Don't rub it all around.  You might be surprised at how well this works.
My Concealer Picks:  Mac Mineralize Concealer, NYX concealers
YSL Touché Éclat for dark circles -the ultimate for adding light!  No7 has a great dupe for YSL – click for review.
For now, these tips are working for me.  Aging has lots more fun surprises in store for my face, no doubt.  Until then, no matter what foundation I'm using, these are my Base-ics for my 40's.
I guess that makes me a Base-ic Bitch.
---
Shop (Amazon) The Foundations Pictured in this post, which are some of my favorites:
L'Oreal Visible Lift Blur Foundation:  Great if you have large pores.  Velvety coverage.
**YSL Top Secrets BB Cream:  This is a must-have-at-all times for me.  I use it for everything!  As a primer, as a "topper" over cream blush, great under eyes.  It's pricey, but it's worth it.  Very light coverage, so if you need heavy coverage it might be best as a primer for you. Super moisturing.
**Sephora Perfection Spray Mist Foundation:  Besides the YSL BB, this Sephora foundation is my other must-have.  Spray on a brush and blend away imperfections!  So light, won't gather in wrinkles, buildable coverage.  This is everything.
Maybelline Dream Wonder Foundation:  Great if you're on the oily side, or as a summer foundation.  It's very thin formula, almost like water, gives velvety coverage.
(Visited 26,651 times, 39 visits today)