"Hello, Giella"
I'm always searching for makeup that flatters over-40 skin.  It's harder to find than you might think.
Dear Beauty Industry,
Over-40 women buy makeup, too.
Meet Giella Custom Blend Cosmetics.  They are doing things a little differently by actually connecting with women of ALL ages.
And here's just one example: They contacted me, an over-40 beauty blogger.
Besides loving the company's philosophy AND the fact that they are cruelty-free, their products are fabulous.
The picture below shows Giella makeup on my over-45 face, in real sunlight.  If you're in your 40's, you know how unforgiving sunlight can be.
I'm impressed with the glowy look created by the Strobe Highlighter and how the TZ Blotting Powder hides my pores.  My forehead literally looks like the surface of an orange, but not with this powder on.  The Feather Blush is a new favorite of mine for its natural, believable glow.
TZ Blotting Powder (white, far left)
Concealer (cream)
Feather Blush (top right)
Strobe Highlighter (near bottom)
Mario Pinched My Lips Lipstick
Look how FINE the Blotting Powder & Highlighter are.  That's why they look natural and don't gather in wrinkles.
I'm wearing Giella Concealer under/around my eyes.  It's creamy, contains soy butter, and has good staying power.  It's easy to apply by tapping a little into your skin with your fingertip and you don't need much of it.  Which is great, because you avoid that heavy, cakey look.
Giella also sent me some very red shades of lipstick.  These lipsticks are super pigmented!  I tried matte formulas and found that a lip brush helped spread the color evenly.  Once applied, the color stayed put, no bleeding into lip lines like so many dark lipsticks can do.
So this was my first "Hello" from Giella Custom Blend Cosmetics, and I'm quite sure it's the beginning of a wonderful friendship.  I'll be trying more, and writing up my favorites on the blog.
There is so much more to see from Giella, so say your own "Hello" by visiting giella.com.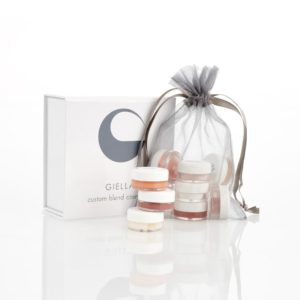 ---
These products were given to me for consideration for review.  As always, these are my honest thoughts.  If a product doesn't work for me, I simply don't review it.  The link above is not an affiliate link, meaning I will receive no commission on any sale.
(Visited 173 times, 1 visits today)