"Just Ask Jill"
In my search for the perfect makeup colors for me, I've tried:
finding my skin's "undertones" by looking at the veins in my wrist.  Blue?  Green???
figuring out if I'm an "autumn" or a "summer" (I still don't know.)
Spending lots of $$$ on colors that don't flatter me.
But I have never selected my makeup colors based on my hair color.
Until now.
I had the pleasure of talking with Jill Kirsh, expert Color Consultant and all-around super woman. She had tons of color advice for me.
I could actually hear her passion for color in her voice.
So how does Jill figure all this out?
Jill knows the most flattering colors for you, based on your current hair color.
Jill's unique approach to working with color has won her the nickname  "Hollywood's Guru of Hue."  She has consulted Red Carpet celebrities, Grammy winning musicians, actors, news anchors and business leaders.  She's so good that In Style Magazine and Redbook, among many others, have sung her praises.
But now you don't have to be a celebrity to get her advice.  She has put together makeup palettes (AND individual products are available as well) of the most flattering makeup shades based on your current hair color.  She sent me the Warm Blonde palette.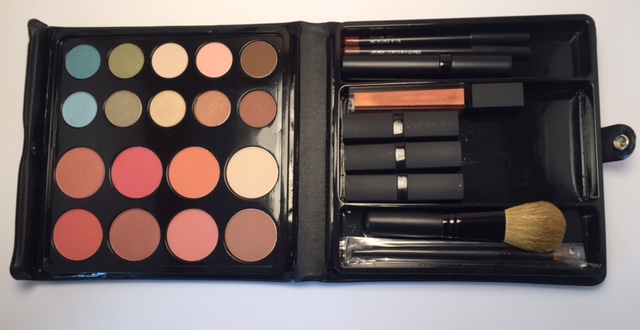 You can find your perfect color palette at JillKirshColor.com and they are available for purchase on Amazon.  Palettes include:
Golden Browns/Redheads
Warm Blondes
Deep Brunettes
Ash Blonde, Platinum & Gray
As many of you know, I'm picky about powder and I WON'T wear chalky, cakey looking powders, no matter how great the color is.
The makeup is mineral based, not chalky at all.  I am impressed!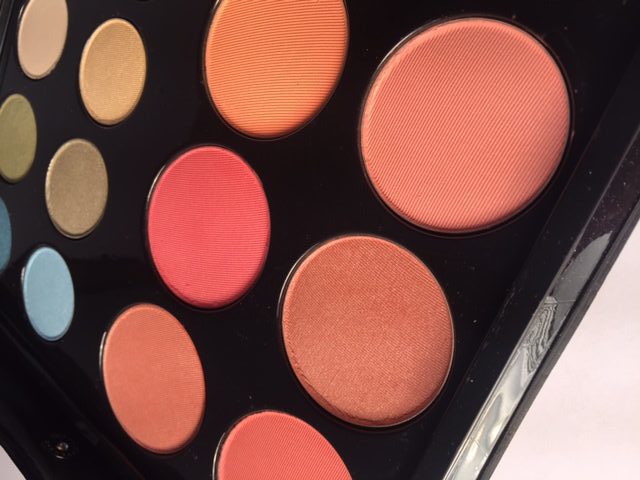 I've been searching for a nude lipstick that doesn't make me look gravely ill, or like I have no lips at all.  Jill found it. This is huge for me.  The Cinnamon lip liner (2nd to last swatch below) works perfectly with all 3 lipsticks as does the gloss (first swatch).
And…LOOK AT THAT GORGEOUS GLOSS.  It scared me at first, as I'm a clear gloss person.  Or shell pink if I'm feeling really crazy.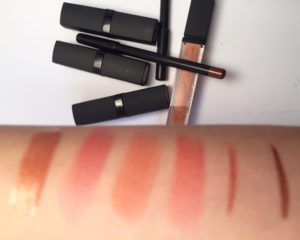 I've been staying away from brown mascara, thinking it wouldn't make my eyes "pop."  Jill sent me brown mascara… and I love it.  The bronze eyeliner (last swatch on right in photo above) is absolute perfection for me.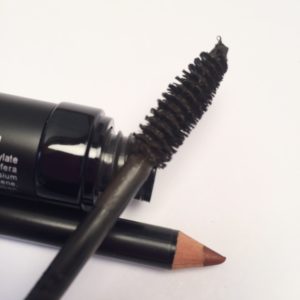 Jill introduced me to colors I wouldn't have tried, as I've been stuck in my "soft-pink" comfort zone.
The blushes & shadows have a good amount of pigment, you don't need much. There is a bronzer and a cream shade for contouring.  I love that the colors work perfectly together.  NO GUESSWORK.  It's all right there!
I like a more natural look for my 46-year-old face, so that's how I use this palette.  BUT you can build any look you would like, from natural to glamorous.  I'll be trying more looks and posting them on Instagram if you're interested.  Maybe a little more glamour would be a good thing for me to try with this palette.
So she found makeup that worked for me, but could she help me with selecting CLOTHING?  Of course she could.  She's Jill Kirsh.  She sent me this little swatch book (size of a man's wallet) with all my best colors.  I keep it in the car so it's handy when I go shopping.  Everything in my life should be this easy!
I'm beginning to wonder:  Is there anything Jill Kirsh can't do?  Maybe Jill could give me advice on other decisions in my life.
I'd trust her.
Because so far, she hasn't steered me wrong.
Update:  Jill now has Matte Liquid Lipstick!!!


---
These products were given to me by Jill Kirsh Color for consideration for review.  As always these are my honest thoughts.  If a product doesn't work well for me, I simply don't review it.
(Visited 952 times, 1 visits today)