Matte metallic lips are a big trend right now, I've been seeing them everywhere.  Matte metallic sort of makes your lips look like the matte side of aluminum foil.  The trend is undeniably fun to wear!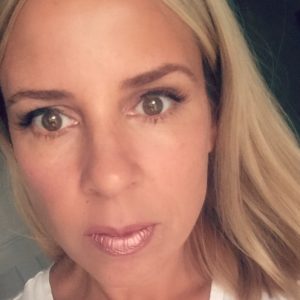 If you're looking to try a metallic shade and you don't want to spend a fortune, Milani is pretty good.  I love their colors and it has decent staying power.

I don't like to spend on a trend.  So this is PERFECT.
I tried Milani's Amore Matte Metallic Lip Crème in the shade "Prismatic Touch."  It's a cheap way ($7.99) to try the metallic trend.  Just look at that color!  Look at it!  I love it, and it's way cheaper than most of the brands that are making matte metallic lip products right now, like Bite Beauty ($22).
APPLICATION TIPS
I recommend exfoliating your lips before using this.  Use a washcloth or a scrub, just be sure to exfoliate.  This product will highlight flaky lips.  Hard.
I line my lips first with lip liner.  Then, I apply the Milani Metallic Matte to the center of my lips FIRST, and spread the product around evenly with a lip brush.  I'm just not skilled in applying near my lip line without a brush.  You may not have this issue.
Once this is on, it's staying put for a while.  Do not try re-applying unless this has mostly worn off.  Piling on layers of this just looks cakey and dry.
Milani Matte Metallic is long-wear, but I don't think I'd wear it to an all-day affair, like a wedding.  It feels dry on your lips, and re-application (for me at least) might be a bit challenging throughout the day.
It is perfect for an evening out, like dinner & drinks.  It's really fun to wear and a nice change from every-day lip color for me. The trend won't last forever, so for 8 bucks, you just can't beat it.
(Visited 297 times, 1 visits today)