For years, YSL Radiant Touch has been my absolute GO TO for adding light to the shadowy parts of my face.
Use it under eye bags to lighten shadows under the bag.  It really lessens the look.
Use it around eyes, the inner corners especially, to instantly wake up eyes.
Lighten dark circles.
Highlight brow bone with a very natural look.
At $42, YSL is a bit pricey, so I've been looking for a dupe for years.
And No7 Radiant Glow Concealer is it!
It's the closest formula to my beloved YSL that I've ever found.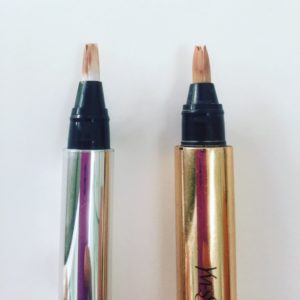 I'm not saying that I'm giving up my YSL, but now I have a cheaper option to wear every day.  This is so similar to the YSL formula, for less than half the price!  For $12, I can wear the No7 for everyday looks,
saving my YSL for when I really want to use it…
and saving money.
Around my eyes is my favorite use for No7 Radiant Glow.
You can use it as a base, under your foundation or favorite concealer, or you can wear it alone for a more natural look.  I wear it alone.
The formula blends into skin and is formulated for 8-hour wear.  I think that's pretty accurate.  I don't touch this up all day, and it's going strong by the time I take it off at night.
Note:
Neither of these is made for camouflaging pimples.  These are for bringing light to shadowy, darker parts of your face.
Each has a brush applicator tip, which I use to apply the makeup, but I do blending with a concealer brush.
If you're looking to add light, I love them both!  The No7 Makeup Line is impressing me in general, and definitely worth checking out.
(Visited 2,071 times, 4 visits today)