Sparkle scares me. When it's not done right, shimmer accentuates wrinkles.  I'm usually cautious in my glittery makeup selection, but recently, I threw caution to the wind.  I got some balls.  Sparkly ones!  On a whim, I bought NYX Roll On Shimmer.  It's like pixie dust on a roller ball!
Here's my favorite shade: NUDE.  It. Gets. Compliments.
Sales people at Sephora have asked me what I'm wearing when I'm wearing this as a highlighter on cheekbones.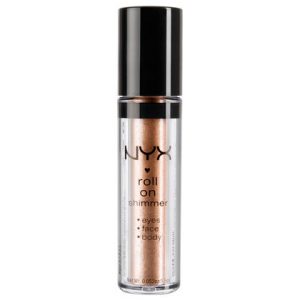 What It Is
It's loose powder infused with a very fine shimmer/glitter.  These roller balls come in 16 colors including nudes, pinks, browns, greens, purple, onyx…and yes, they even have blue balls.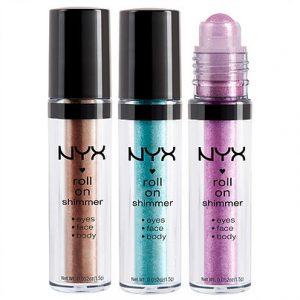 Application
–  It's a roller ball!  You can roll these balls anywhere on your body.  I mainly use them as eyeshadow, but the more natural colors make perfect highlighters for your face and body, too.
–  Add subtle sparkle to your shoulders or highlight your collar bones.  They add a gorgeous shine to cheek bones, too.  These balls can go anywhere with ease.  The fine powder blends easily with a brush or your fingertips.
 How I Roll
I haven't tried the bolder colors like black or green, I prefer the pinks and nudes.  I like using them as eyeshadow best, and they can be blended out to very sheer coverage for subtle shimmer or a little accent.  I like them over a matte shadow, to add a hint of sparkle.  And with this, I control the sparkle.  For a daytime look I can blend them out.  For an evening look with more sparkle, I can keep on rollin – adding as much as I want.
At about $4-5 each, I can feel like a baller and buy myself some more. They'll be an inexpensive way for me to try more shimmery colors and branch out from the safety of my nudes and pinks.
I am having a ball with NYX Roll On Shimmer.  They are amaze balls.
(Visited 2,506 times, 1 visits today)