"Total Control Freak"
I was SO excited when I bought NYX Total Control Drop Foundation that I kind of lost total control.  I couldn't wait to try it, so without reading the instructions, I dropped some onto a brush and started blending away.  Results weren't what I had hoped for.  I looked like I had smeared my face with home interior paint.
My lips had literally disappeared under the foundation.
After regaining my self-control I took a look at the directions, which said you could achieve light coverage with as little as TWO drops.
I had applied like FIFTEEN.
Once I figured out how to use it, I fell in love with this foundation.  NYX has developed another drugstore product that yields high-end results.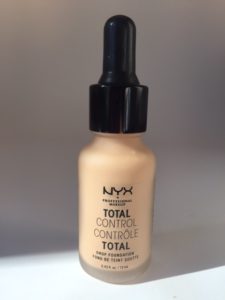 The matte, velvety finish is amazing.  The formulas is LIGHT, with a consistency comparable to water, which is why I thought I needed to pile it on to get coverage.  NOT SO.  NYX Drop Foundation is buildable.  The more drops you use, the more coverage you get.  In one bottle, you have light, medium or full coverage at your fingertips!
I can use 2-3 drops for an everyday look.  For an evening look I just add drops, ONE AT A TIME, until I achieve the look I want.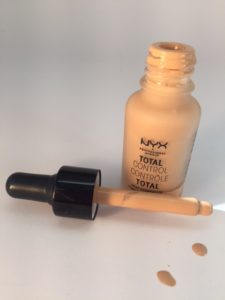 I love it, BUT…
Yes, I love this foundation, BUT I can't just rub some on my face and go.  From trial and error, here's what I learned about applying this.
APPLICATION TIPS
I start with a very little bit of BB Cream to moisturize and prime my skin.  If you have dry, flaky skin, this NYX foundation will cling to flakes, accenting them.
I drop 2-3 drops onto a foundation brush and then tap the brush around my face to distribute dots of foundation, then I blend it out with the brush.  I have also tapped dots of the foundation onto my face using my fingertips and then blended with a brush.
For the best finish: blend, blend, blend.  And then blend some more.  NYX sells a brush specifically for applying this foundation, but most of my foundation brushes work just fine.  A damp beauty blender dabbed (not rubbed) on your face can help even out the finish if you need it.
It's so light it feels like you're wearing nothing on your face.  It gives velvety-matte, buildable, long-lasting coverage that doesn't gather in wrinkles.
Because of NYX, I'm a Total Control freak. 
(Visited 2,729 times, 2 visits today)