"Old Smoky"
If you're over 40 and you can rock a smoky eye, I am jealous of you.  Some women wear it well, but I just can't pull it off.  My sagging lids and eyes that are sinking deeper into my head just don't support the look.  I've tried following tutorials, but in the end I resemble a zombie or a creepy clown.
The Smoky Eye makes me look older.
The evidence is in the pictures below.  On the left you see me as "Old Smoky."  And you can't even see half the "smoke" because it's hidden under my hooded eyes!  All that darkness adds years to my face.  It accents droopy lids and brings my whole eye area DOWN.
I wear eye shadow, but I stick to neutral colors.
NEUTRALS DO NOT HAVE TO BE BORING.
Here Is Exactly What I Do
 Prep lid with eye shadow base.  (I like this one from NYX.)
Apply a light neutral, like a cream or light peach or pink, from lash line to crease.
Apply a darker shade just above my crease, not all the way to the brow of course.  Then I blend the two shades so there's not a defined line between the colors.
I use wet eye shadow to line my upper lash line, usually a shimmery gold or rose gold shadow.  I just dampen a liner brush, get some shadow on it, and apply.  I apply the wet shadow directly behind the center lashes.  It gives a great backdrop for your lashes, making them pop. You can see light hitting my liner over one eye in this picture.  Subtle, but such a powerful eye brightener.  
I line the outside corners of my eyes with a darker color, usually bronze or brown.
I don't wear liner on my lower lash line and I wear clear mascara on my lower lashes in an effort to keep the look clean and bright.  Dark liner and mascara just drag my look down and create shadowing.  You saw the picture.  It looks awful on me.
I never add white to my brow bone.  It. Is. Aging.  Instead, I apply some YSL Touche Éclat Radiance Pen there for it's light reflecting properties.  Find something closer to a skin-tone.
Apply black mascara to top lashes.
Over 40, you can't just pick up any eye shadow.  Crappy ones can make you look older.
DRUGSTORE FAVORITES
elf Aqua Beauty Molten Liquid Eyeshadow – This can be blended out to be subtle, or don't blend for a bold, metallic look.  I keep this AWAY from my inner corners.  Lids or lash line only.
NYX Liquid Crystal Liner in gold.  I get compliments on it every single time I wear it!  Do not be afraid of this liner.  If you see it, buy it.  Applied at lash line in the center of your lid, it adds a gorgeous sparkle that attracts attention!  Without looking overdone.
elf shadows (in Brushed Copper & Rose Gold) and NYX glitter liner (far right swatch)
NYX Eye Shadow Base comes in white and different shades to suit your skin tone. (Pictured with NYX Brow Shaping Pencil.)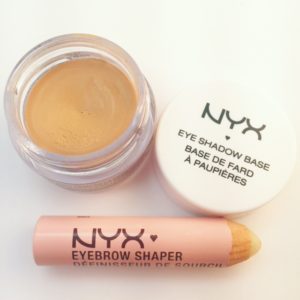 TWO AMAZING PALETTES FOR ANY AGE
My two favorite shadow palettes are from Lorac Cosmetics.  You can find them at Kohl's or buy it on Amazon.  The "Unzipped" palette is absolutely amazing.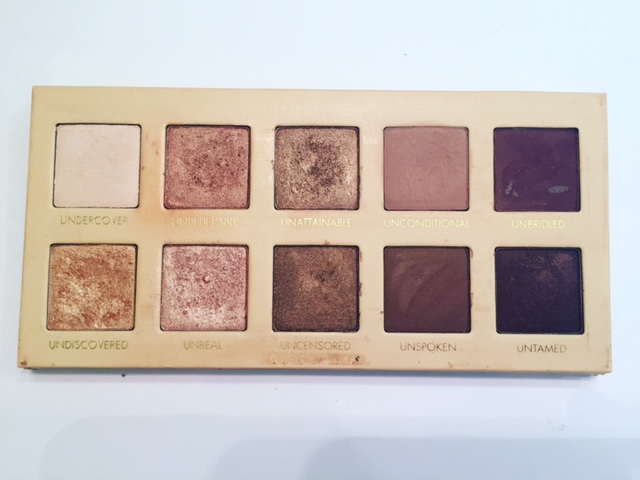 For powerfully pigmented mattes, Lorac Pro Matte Palette is perfect.  You can find it on Amazon, too.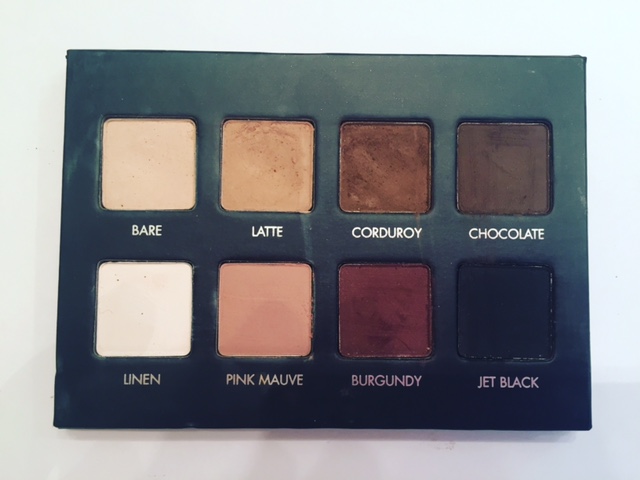 With so many options:  glitter, molten metallics, rich mattes, and rose golds – neutrals do not have to be boring!  You can create dramatic eyes without the dark, aging smoke.  For me, adding light to my eye area looks more youthful and more flattering.
When it comes to the smoky eye, consider me a non-smoker.
(Visited 893 times, 1 visits today)