"I Second That E-Glow-Tion"
Every review I've read on Pixi Glow Tonic has been…well…glowing.
I've always wondered if the tonic was worth the hype,
and I'm talking about some SERIOUS hype.
This product has a cult following!
It's Glowing Up in the States
The lucky ladies in the UK have been raving about it for years.  And now it's FINALLY OFFERED HERE IN THE USA!
It continues to sell out at my local Target for weeks!  Now when I see it in stock, I buy an extra.
Here's the Glow Down
Pixi Glow Tonic is an exfoliating toner.  After washing my face, I put a little tonic on a cotton ball or round and swipe it all over my face each morning and evening.  It's fast, easy, inexpensive and effective.
I was glown away when I tried it.
My skin actually did glow.  It's the gentlest exfoliant I've tried.  Pores look tightened, but there's no drying feeling from this at all.  Now I understand what all the hype has been about.  This gives you a great canvas to start with when applying makeup.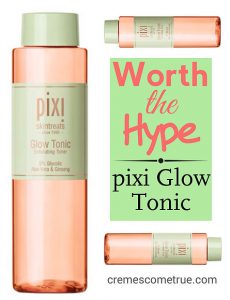 While women of all ages love Pixi Glow Tonic, I think it has some ingredients
of special interest to over-40 women.
1.  Aloe – Helps make your complexion clearer, smoother and it reduces inflammation (think puffiness.)
2.  Ginseng – Has been known to boost skin-firming collagen.  It also acts a whitener, making skin appear brighter and more youthful.  I'm hoping it can help lighten dark spots.
3.  Glycolic Acid (5%) – Glycolic Acid helps exfoliate dead skin cells, helping to expose the fresh, new ones.  This makes your face brighter, less dull.  It can also help lighten discoloration, like sun spots or age spots.  If you have acne-prone skin, it help to clear blackheads and breakouts.
4.  There's NO ALCOHOL in this!  So you don't feel like your skin has been stripped of all oils.  This is SO important, because oil can be hard to come by in your 40's.  You need some oil to keep skin plump, hydrated and looking more youthful.
Honestly, I was expecting this to be a big let-down.  I was skeptical.  How could this inexpensive little toner be THAT good?  But the reviews were right.  So to all those bloggers out there raving about Pixi Glow Tonic, I second that e-glow-tion.
(Visited 4,837 times, 2 visits today)