"Straight Up Frizz"
All the commercials for anti-frizz products show people with curly hair.  I don't have curly hair, but I can tell you that frizz does not discriminate.  It can strike the straight-haired, too.
I get straight up frizz.
Advertising seems to focus on curly hair having frizz issues.  I don't have curls, but I still get frizz.  Especially on the ends.  It is fried-looking, fly-away frizz – Not the smooth, healthy ends I want.  
I've found two products that are handling this issue for me: StriVectin All Smooth Overnight Anti-Frizz Serum (left) and All Smooth Frizz Control Mist (right.)  I can apply them on just the ends of my hair or all over, use on damp or dry hair, use a little or a lot depending on my needs.  The result is always smoother, healthier looking hair.
StriVectin All Smooth Overnight Anti-Frizz Serum
A small amount of this product produces results for me.
It's a light cream, I think of it as "hair lotion."
Apply it to damp OR DRY hair before you go to bed and style as usual in the morning.  Using this on dry hair is KEY for me because many anti-frizz products require your hair to be damp.  I don't wash my hair every day, so this solves that problem. 
I apply this to my dry ends, from about midway down to the ends.  My roots don't get as dry, so I don't need to apply much, if any, to that area.
When I wake up, my hair feels hydrated and looks healthier with decreased frizz and increased shine.  It does not feel weighed down, limp, or greasy.
StriVectin All Smooth Frizz Control Mist
I would describe this as a lightweight spray-lotion for hair.
It can be used on damp or dry hair, but I like it best for damp hair.
If I've just washed my hair and I'm going to blow it dry and use heated styling tools, I reach for this spray.  It provides heat protection from the damage caused by heated styling.  Protected hair is less likely to get frizzy.
As with the serum, hydration is the main result with the mist.
Hydrated hair looks healthier. These two products are hydration powerhouses.
Winter is an especially rough time for my hair.  The dry heat in the house just sucks all the moisture out of my hair.  Also, I am less likely to let my hair air dry, so there's more blow drying happening.  These two products really couldn't have come along at a better time.
Final Say:  If you're battling frizz, StriVectin is the shiz.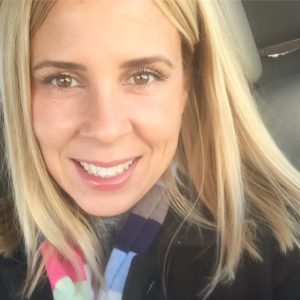 (Visited 359 times, 1 visits today)