"Stress Less"
Staying hydrated feels like a job. It requires so much effort.  And water.  Lots and lots of plain, old water.
If vodka and coffee were hydrating, I'd always have a gorgeous glow.
Hydrated skin looks and feels better…and it starts with drinking plenty of water.  But who of us couldn't use a boost of hydration from a moisturizer?  StriVectin Stress Defense Hydrating Water Gel gives you just that.  It's designed to feel like "a cool splash of water to your face," and I have to say, that's exactly what it feels like.
It's not easy to find a good summer moisturizer.  No need to stress on finding one this year.  This little lovely arrived on my doorstep at the perfect time: the start of summer.  It's so lightweight but packs in a ton of moisture.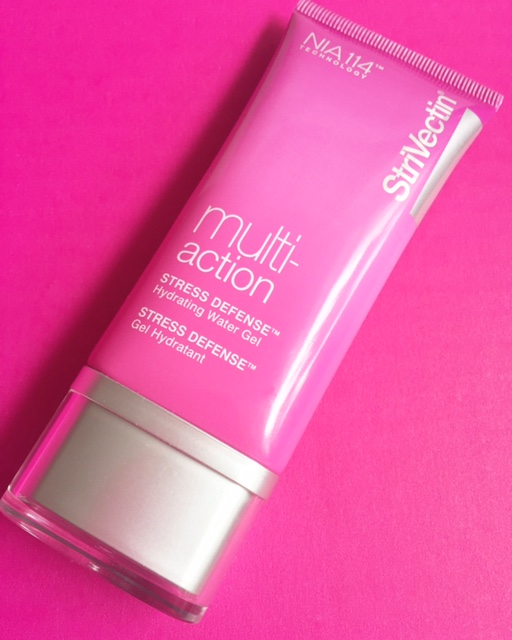 WHAT I LIKE
It's a powerful shot of hydration, so it plumps up your face fast – lessening the look of wrinkles.
It's cool and refreshing, but not the kind of cool like you just rubbed peppermint lotion on your face.
It's lightweight, it's perfect for summer.  It's not greasy or heavy, you don't look shiny.  At a time when I'm piling on the sunscreen, this is a nice, light change for my skin.
It's great for under makeup,
Stress Defense Hydrating Water Gel is  recommended for use AM and PM.  For me, it's best as a daytime moisturizer.  At night I use either a retinol product or my StriVectin Overnight Resurfacing Concentrate – which is amazing.
If you have oily skin, I think this would be a GREAT moisturizer to have on hand.
With antioxidants, amino acids, and StriVectin's patented NIA-114 technology, this water gel helps to strengthen your skin's moisture barrier, so you don't dry out.   It keeps your skin looking hydrated and helps to "counteract the visible signs of stress"  that can show in your skin.  Plus…
"A soothing aroma helps melt away stress as a cooling burst of hydration wakes up the complexion." – StriVectin.
Maybe instead of reaching for the vodka to melt away my stress, I should be reaching for the soothing scent of StriVectin Stress Defense Water Gel.
Or reach for both.  Just for good measure.
---
This product is a PR sample given to me for consideration for review.  As always, these are my honest thoughts.  If a product doesn't work well for me, I simply don't review it.
(Visited 79 times, 1 visits today)